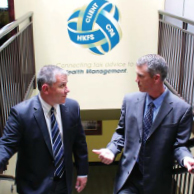 There are investment needs that may be more appropriately met with brokerage products as opposed to fee-only advisory services and asset management services. Green Street Capital has partnered with HK Financial Services (HKFS) to provide brokerage services to our clients.



PRODUCTS OFFERED INCLUDE:
Uni-401(k)s
Individual bonds
Traditional and Roth IRAs
Real estate investment trusts
Mutual funds
Real estate 1031 exchanges
529 plans
Oil and gas opportunities
Individual securities
Other alternative investments
YOU WILL RECEIVE
Tax planning integration with your CPA
Thorough review and analysis of your situation
A variety of alternative or direct investments to enhance a well rounded portfolio
High-level service
Experience and dedication
Consider your current financial situation, including risk tolerance, time horizon and financial goals, to determine if a brokerage-based account or direct participation product would be the best solution for you.
WHY GREEN STREET CAPITAL AND HKFS?
Green Street Capital partners with HKFS, a wealth management company that specializes in accounting and law firm clients. Founded by the partners of Honkamp Krueger & Co., P.C., a Top 100 CPA and business consulting firm, HKFS has a thorough understanding of navigating the special relationship between advisors and their clients. They work seamlessly with us to offer you an all-encompassing and guided approach to financial planning.